With more than 4,000 hostels worldwide in fantastic and unique locations. Find your dream experience Hostelling International
Sorry, this content is not currently available in the mobile view. Switch back to desktop view to access this page.
Sami and Kven: The minority cultures of the North
Sami and Kven - The minority cultures of the North
2 November, 2017
In the far north of the country, on the bleak edges of the continent, the Norwegian province of Finnmark lies.
A land of big contrasts, from sharp mountain peaks and broad fjords to the endless inland plateaus, it leaves
a vast and empty impression. Finnmark is home to no less than three cultures: Besides the Norwegian people,
there live Sami (Lapps) and Kven people.
The Sami or Lapps are the best known ethnic minority in Northern Europe. A proud Finno-Ugric people, they
were the original inhabitants of large portions of the Scandinavian peninsula. Nowadays, they are to be found
in the arctic regions of Norway, Sweden, Finland and Russia. Although there are Sami in the whole of Norway
(there is even a Sami-language daycare in Oslo), the most of them live in the province of Finnmark, with
Karasjok and Kautokeino being the biggest Sami towns.
A journey to Northern Norway is therefor a dive into Sami culture. Although the Sami are a modern people as
anyone else, the traditional culture is being held alive as well. Therefore you'll see people wearing the traditional
colourful dress. If you have the opportunity to visit a traditional Sami tent or hear some of the «joik» chanting,
you shouldn't miss it! Maybe you meet someone who still herds reindeer, the traditional Sami way of life. Actually,
herding reindeer is still an important part of the Sami, as up til 16% of the population is connected to reindeering
in one way or another.
The Kven people are a smaller minority in Finnmark. They are descendants of immigrants from northern Finland,
and continue to speak the Kven dialect of Finnish. There are also Kven communities in neighbouring Sweden.
HI Norway has two hostels in Finnmark; in Lakselv and Mehamn. Mehamn is our northernmost hostel, on the tip
of the Nordkinn Peninsula, the northernmost point of the European mainland. It is open all year round, and is the
ideal base for your northern adventure!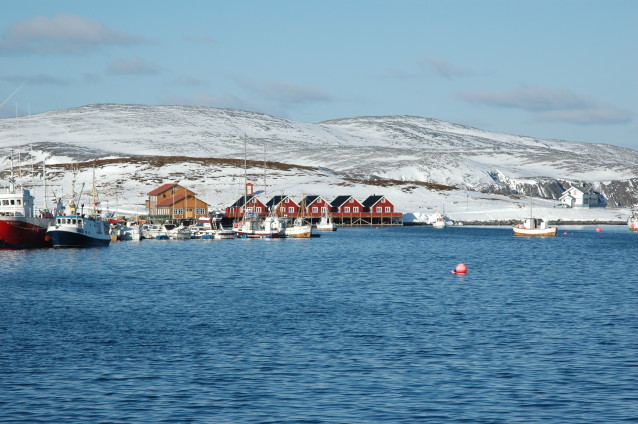 HI Mehamn in winter