With more than 4,000 hostels worldwide in fantastic and unique locations. Find your dream experience Hostelling International
Sorry, this content is not currently available in the mobile view. Switch back to desktop view to access this page.
Ski season in Norway – best places to ski!
Ski season in Norway – best places to ski!
28 September, 2018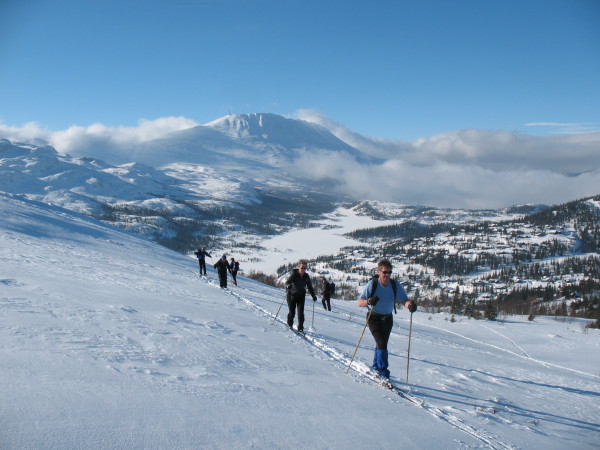 Every autumn, there are thousands of people in Norway checking the local weather app yr.no daily to
see when the first snow will arrive. Norwegians are either thrilled to find their pairs of skies in the
basement, or booking their next holiday to a warmer place. For us, however, snow means winter fun
and activities!
Both cross country and alpine skiing are great ways to be out in the nature and stay in shape at the
same time. HI Norway has several hostels located in some of the best skiing areas Norway has to
offer. Here are a few:
In Voss Hostel, you are never far from activities in general. The hostel is located next to a beautiful
lake, and within walking distance to the bus that takes you to the alpine slopes. Known as the "city
of extreme sports" in Norway, Voss has a lot to offer for adrenaline seeking people from all over the
world. The hostel is known for its fantastic organic breakfast – a good way to get you started before
heading to the slopes!
Rauland is also a place known for its great winter possibilities and focus on traditional Norwegian
culture. Stay at Rauland Hostel, enjoy home made food and perhaps a course in Norwegian
handycrafts?
For Norwegians, Geilo is a synonyme for winter life. The town is located between Oslo and Bergen and
is a safe bet when it comes to snow and temperatures. Our hostel is located only 2 kilometres from the
train station, and the friendly host Svein Inge welcomes individuals and groups that want to ski right out
from the hostel door and return in the evening to go to the sauna.


There are 4 skiing hotspots in the region around Lillehammer: Hafjell, Kvitfjell, Skeikampen and Sjusjøen.
They have slopes for all different ages and levels. Hafjell has 31 different slopes and 15 lifts. It is the third
biggest ski centre in Norway, and the best choice for those who prefer twin tips on ski or snowboard. The
centre is also a good choise for children. The areas of Sjusjøen, Nordseter and Øyer have more than 350
kilometres of cross-country trails.
Apart for being a splendid ski-destination, Lillehammer is also known for its cozy streets, several museums,
olympic heritage and good night life. The city is surrounded by beautiful mountains.

HI Høvring is situated in one of Norway's best regions for cross-country skiing. Situated at 1000 meter above
sea level in the northern Gudbrandsdalen Valley, the trails start at the door of this hostel. The region is
known for its snowy winters, and the varied landscape. There are over 100 km prepared trails which start at
the hostel - some go to the tops of the surrounding mountains, while others stay in a flatter terrain.
HI Dombås
Our hostel at Dombås is located at the foot of the Dombås Ski Centre. With other words, you can start
skiing from the moment you step out the door. The Alpine slopes have 2 lifts, and the longest slope is
2700 metres. The area also has 135 km cross-country trails.
Apart from skiing, there are a lot of other attractions in the Dombås area. There is the Dombås National
Park, the war museum, or musk ox safari in the mountains.

HI Kongsberg
Kongsberg is one of the ski destinations that's closest to Oslo. The centre has slopes for all levels, a
total of 10 kilometres, with 4 lifts and a children's lift. It is known for being an eldorado for snowboarders,
and has a separate freestyle area with jumps, rails and halfpipe.
Kongsberg also has museums like tha Norwegian Mining Museum and the Kongsberg Ski Museum,
enough to fill a day without skiing.
Oslo is probably the only capital city in Europe that offers plenty of skiing within minutes from the centre,
accesible by public transport. It's a perfect opportunity to inject some winter sports in your citytrip!
HI Oslo Haraldsheim is situated some 15 minutes from Oslo Ski Centre at Grefsen. The centre has 4
lifts, and slopes for all levels. They also have ski and snowboard lessons, gear rental, and cross-country
trails.
Oslo Winterpark at Tryvann is some 20 minutes from the city centre. The park has slopes for snowboard
and ski, with both jumps and rails. There are 14 slopes and 7 lifts, for all levels. This park also offers
rental of gear, and lessons.
The ski centres in Oslo are mostly opened from December to Easter, and they are illuminated during
the evenings.